My Creative Workbook
Christine de Beer - effortless floral craftsman
This is my article that I wrote for the Valentine's Design Issue of
Canadian Florist Magazine

We are all reminded of Valentine's Day long before the actual day arrives, with the traditional sights of all things red, heart shaped and chocolate covered. It can all get a bit familiar and well… boring.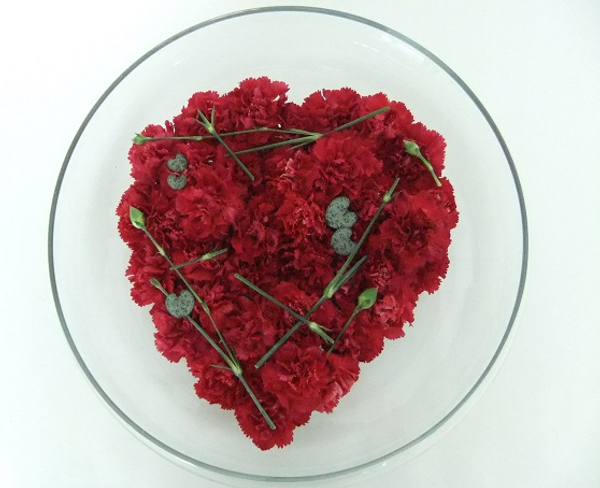 Every love story is unique, and so should the way be that you choose to celebrate it.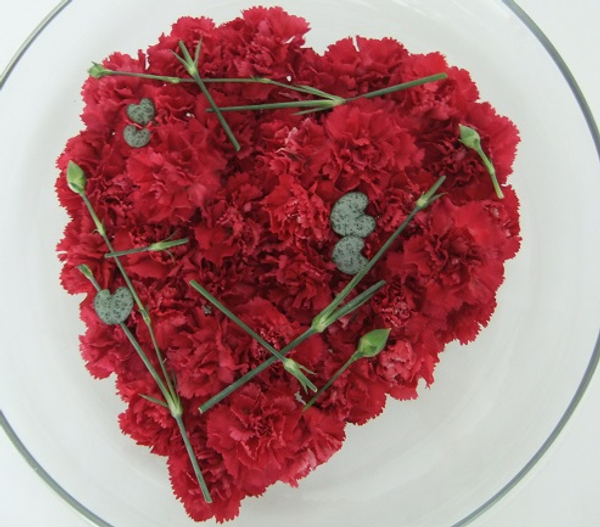 However, finding a unique take on all things Valentine's Day, is a challenge.
Especially since most floral designers have to do it every year. Some things deserve a "second look" when you have to show just how inventive you can be. Rethinking a traditional design element, could simply be adding a dash of up-cycling to the mix.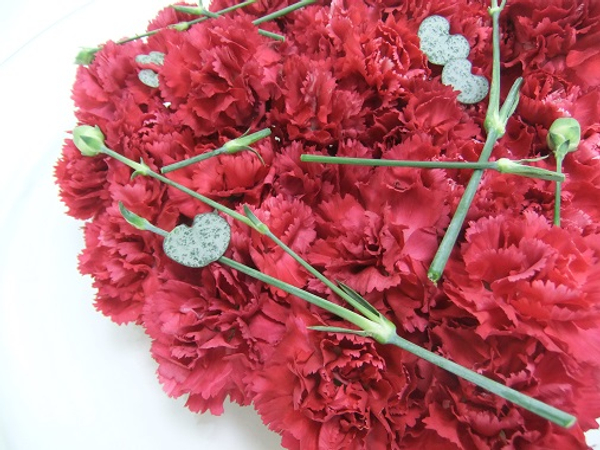 Showing you care in more ways than one.
The trick to re-purposed used items (recycle) in designs, is to always make them more valuable than before (up-cycle) through impeccable craftsmanship.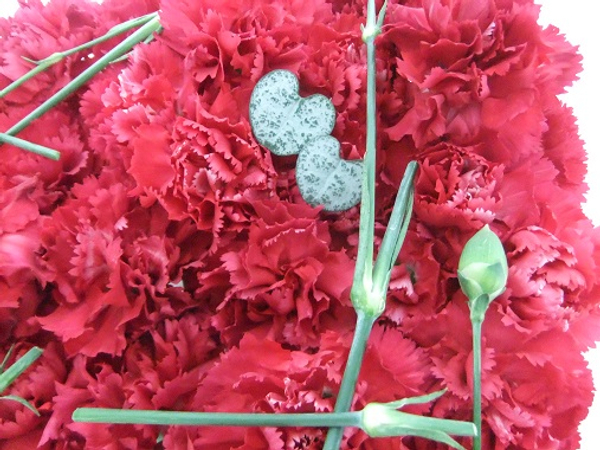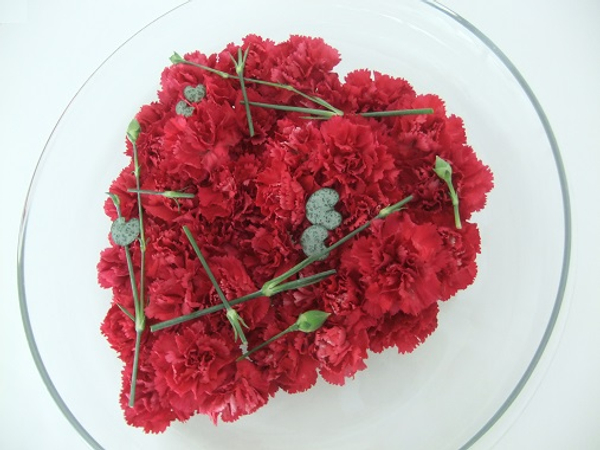 ... to turn trash into a treasure.
Here are a few design notes and ideas to reduce waste in your design room and add up-cycled value to your designs:

Metal: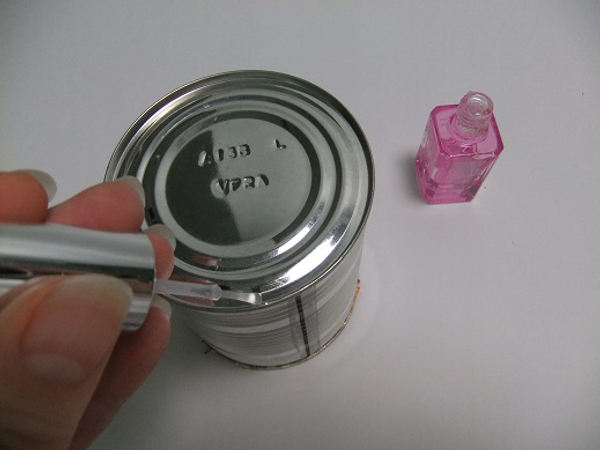 Cans can easily be washed and used as rustic containers. Paint the bottom rim of the can with a waterproof varnish, or even a bit of clear nail varnish, to make sure your can design does not leave rust rings on surfaces.
Filling a can with water and then freezing it will allow you to neatly punch a hole in it. The frozen water gives you a solid form that will not dent or bend when you punch holes into the sides.

All metal containers should also be lined with a sheet of plastic to prevent it from rusting. Metal also cancels out the beneficial effect of flower food, another good reason to line metal containers.

Rusted wire can look beautiful, in an edgy way, when added to a fresh design.

Vintage forks and cutlery can add a touch of whimsy to your work. With tines pointing up, spear a fork into your design to hold table numbers or cards.

Paper: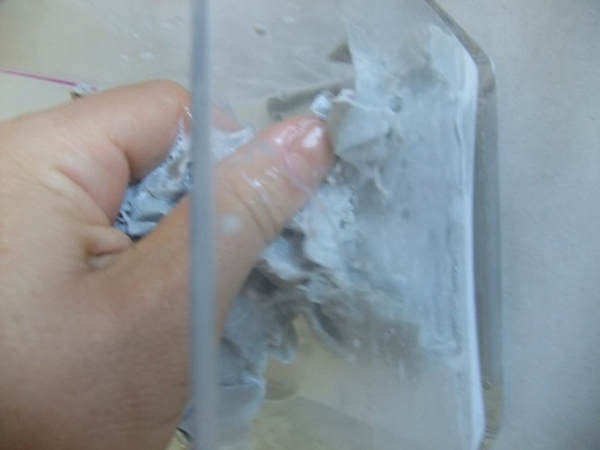 Paper can be pulped to make more paper, or packaging or even papier mache. Find the link to the detailed Tutorial below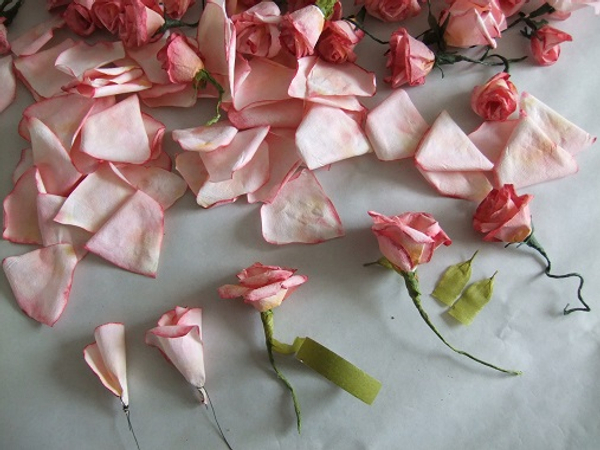 Beautiful sheets of paper can be upcycled to make paper flowers or decorations. You can even make flowers with used coffee filters or tumble dryer sheets. Find the link to the detailed Tutorial below
Remember to also waterproof containers made from paper mache with a plastic lining.

Old books can be ideal for nostalgic designs. Hollow out the book, then line and fill with foam.

Plastic: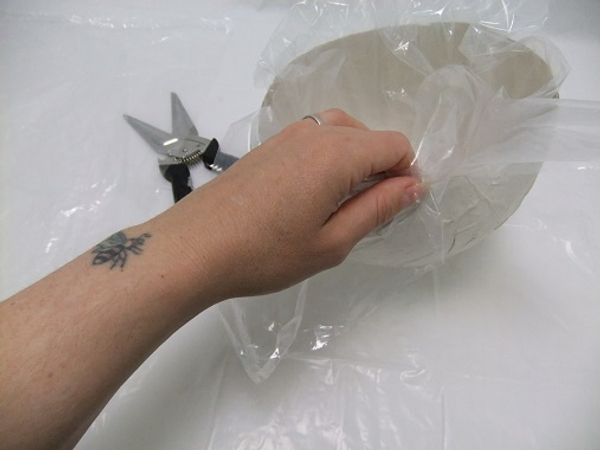 Use large sheets of plastic to line metal and paper containers for waterproofing. Find the link to the detailed Tutorial below
Plastic fruit containers are often ideal to place inside more precious containers to prevent water damage.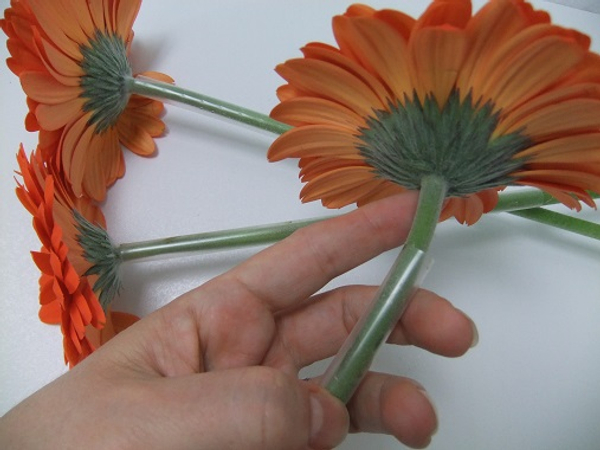 Plastic drinking straws can offer support to fragile stems.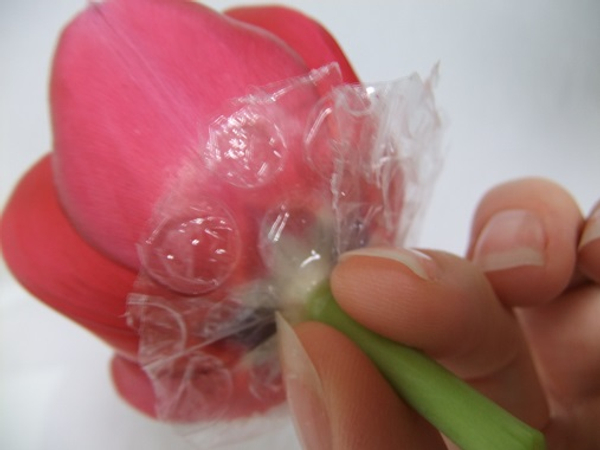 Bubble wrap can be cut to size to make an almost invisible skirt to place underneath flowers to help them float. Find the link to the detailed Tutorial below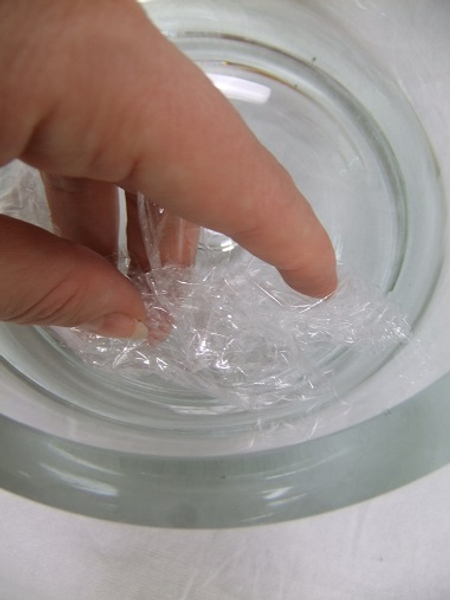 Crumple cellophane and add it to a large clear vase. Fill the vase with water for an instant ice effect. Find the link to the detailed Tutorial below
Glass:

Glass is probably the easiest of all the "trash" items to upcycle. Most glass containers just needs a good soaking to remove any labels, and a wash to be ready for re-use.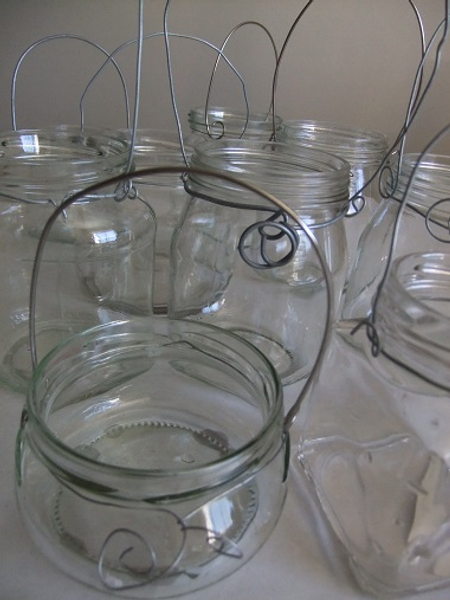 Add bamboo or wire handles for an almost instant hanging container, or drill holes into the glass to thread an electrical wire through for fairy lights. Find the link to the detailed Tutorial below
Broken glass can be sandblasted or sanded to a matt finish look, like sea glass. Chips of Shatterproof glass looks great displayed in clear vases.

Polystyrene:

Polystyrene or styrofoam is really hard to recycle. There are few places that collect it because it is so difficult to process and turn it back into new foam. It is easier to find up-cycled use for the foam. Polystyrene floats really well and it is the perfect base for even heavier designs that need to float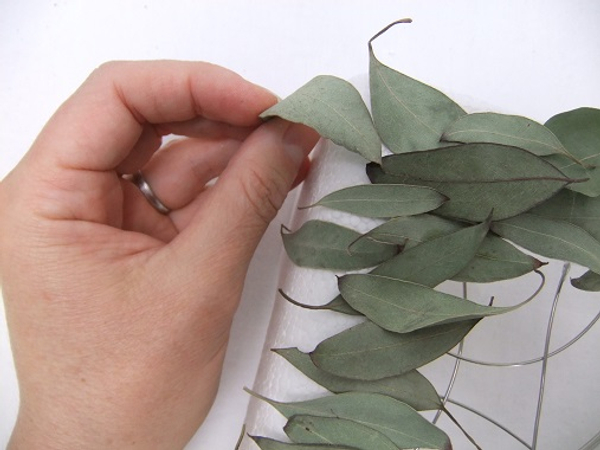 It is also easy to glue and sculpt into a shape that can then be decorated by gluing or pinning plant material to it. Find the link to the detailed Tutorial below
Another use for polystyrene is to place it in a deep vase or pot, reducing the empty space so that you do not need as much floral foam.

As a last resort, when you have used the polystyrene a few times, crumble it to create fake snow. These crumbled tiny balls of polystyrene also makes a great light weight stuffing to fill props with.

Offcuts: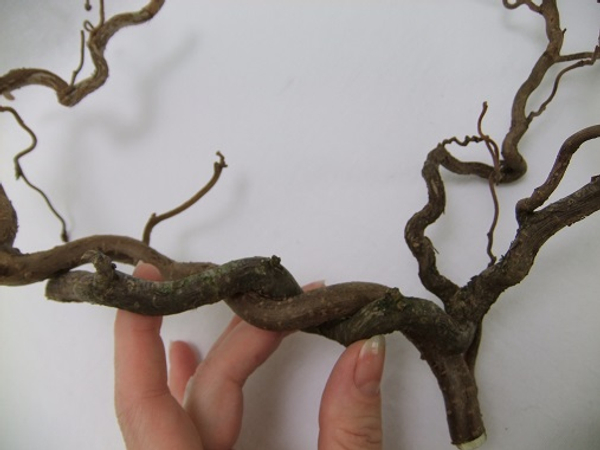 If you have space, try to keep woody stems, petals, and even roots to dry and add into future designs. Find the link to the detailed Tutorial below
Crafts and all things handmade are definitely back in fashion. Use your own unique style, skills and abilities to add a touch of handmade uniqueness to your designs this Valentine's Day. Make everything you use count. Don't hide your upcycled item, but rather enhance it.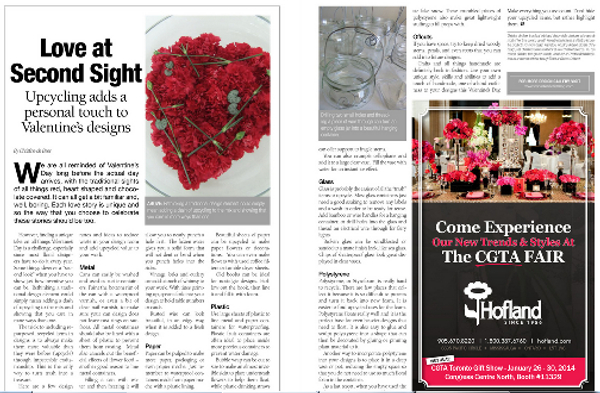 Thank you Canadian Florist Magazine for inviting me to be part of your beautiful Valentine's Day issue
Sign up for my weekly newsletter
Every week I add a new design with related tutorials. Be sure to subscribe to receive an email notification with design inspiration.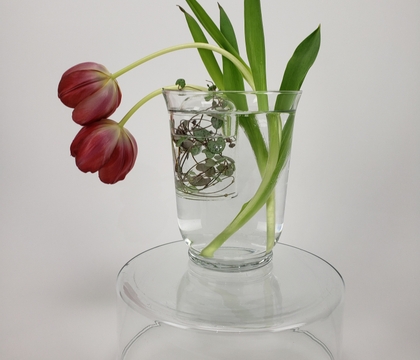 10 February 2021
My valenVine
An... everything is moving... design. The tulips are growing and the small vine filled vase is bopping around in the water. And if you lean them against each other just right it...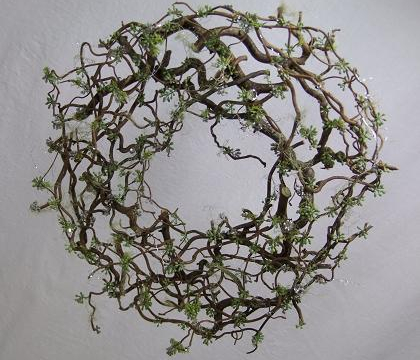 7 December 2011
Forest Filigree Christmas Wreath
I wanted my Hazel twig wreath to look like forest filigree: mysteriously overgrown, tangled with age and dappled with moss and lichen. The wreath is also dressed with fresh and...