My Creative Workbook
Christine de Beer - effortless floral craftsman
So many ways to use a Kenzan to hold floral materials
A Kenzan is a pin holder (usually made from metal or plastic embedded in a metal base) invented for Ikebana style of arrangements (Moribana style: "Moru" meaning heaped and "Hana" meaning flowers) to hold the plant material in place. Moribana is a very informal style of arranging, placing the stems to naturally emerged from the surface. It Originated from the Ohara School in the late 19th Century

You get various shapes and sizes of pin holders even a set of Kenzan that interlocks as a unit.
This is a Tutorial of just a few basic techniques used in the placement of plant material.
To place thicker branches you might need weights to weigh the Kenzan down on one side and a repair tool to restore the needles of the Kenzan as it gets bend. In this Tutorial I will show you how to place slightly thicker branches, Splinting a tender stem and bundling a few stems

Branches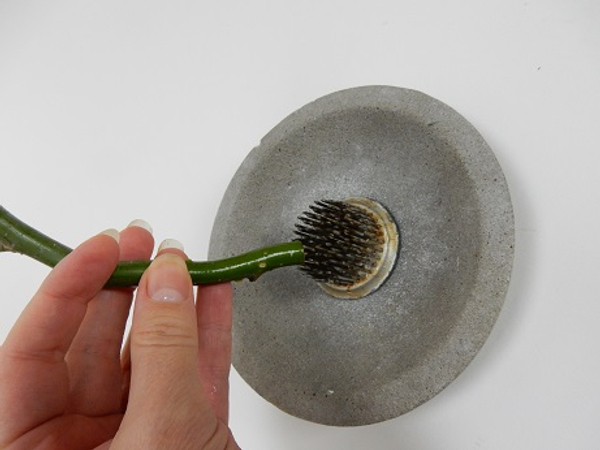 It is difficult to press a branch into the Kenzan needles so that it offers support
There are a few options: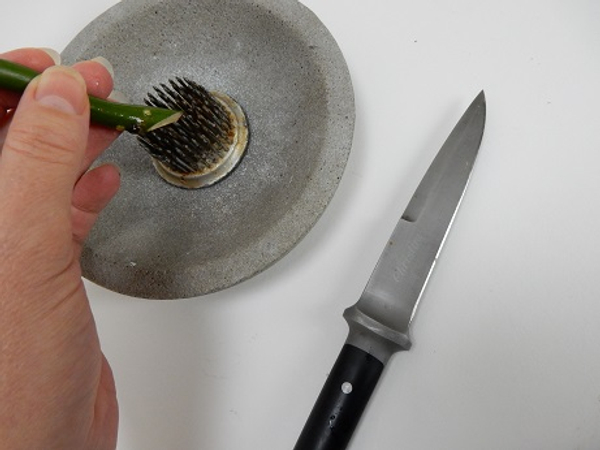 Cut the stem at a very sharp angle. This works really well if you want to position the stem pointing upright.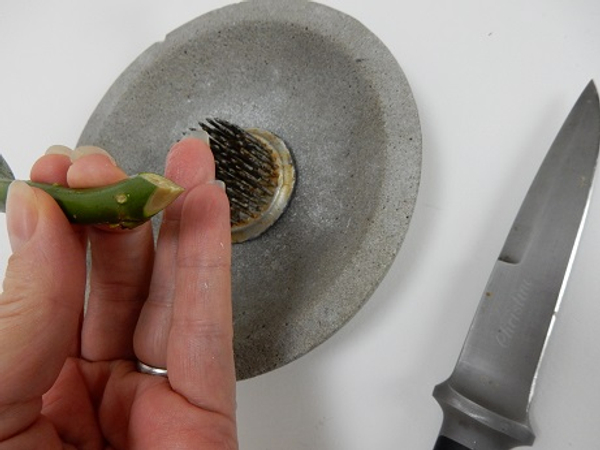 The second option is the cut the stem in a point. This gives you more flexibility on how you want to position the stem.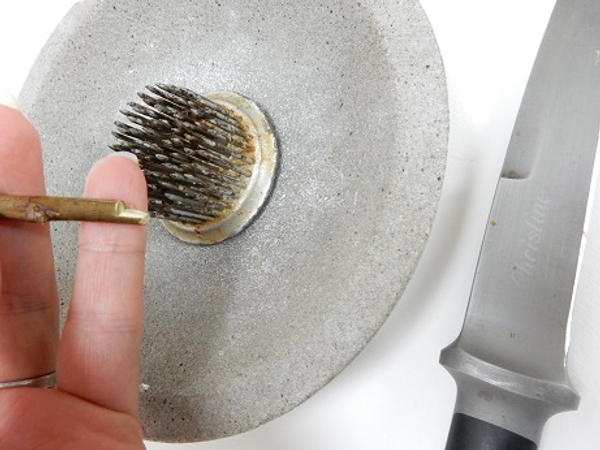 For really hard stems the best option is to cut a portion away so that you do not need to press the needle into the stem itself but can wedge the stem between the needles. Cut straight into the stem and then up the stem to remove the bulk.
My personal preference is to split the stem into quarters. This gives me the most flexibility of how I want to position the stem with the option of adjusting it without having to remove the stem to re-cut it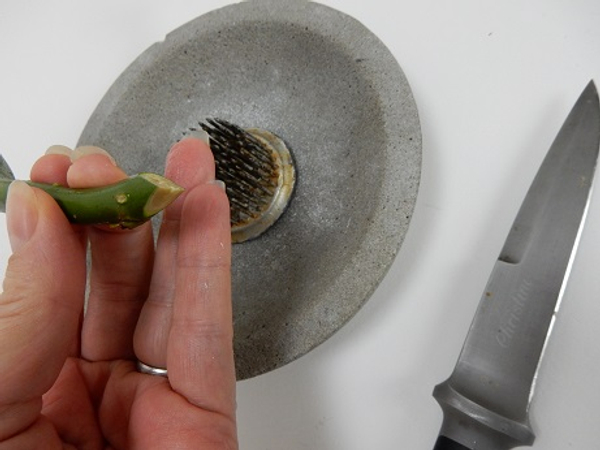 Give the stem two cuts as described above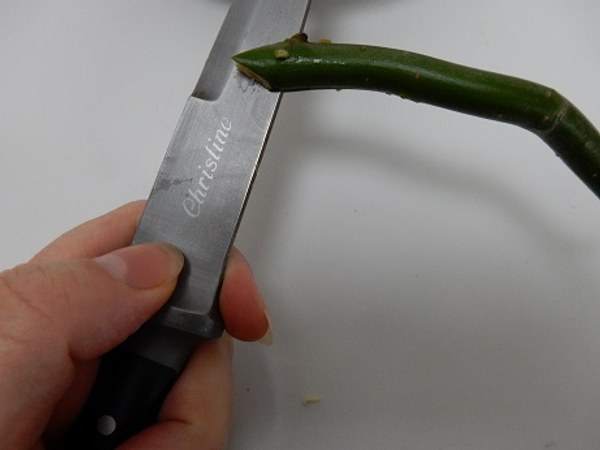 Split the stem cross-wise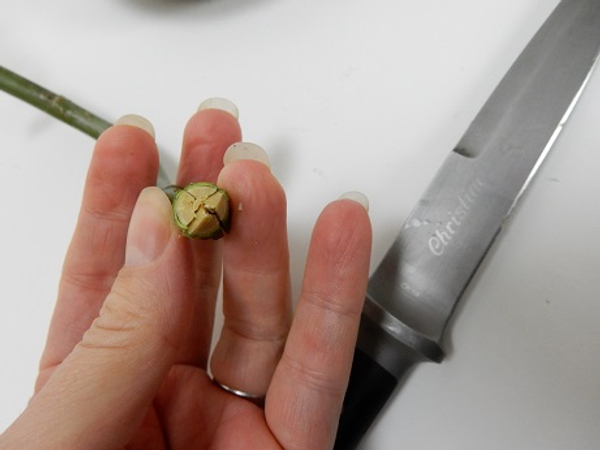 Cut again to split it in a X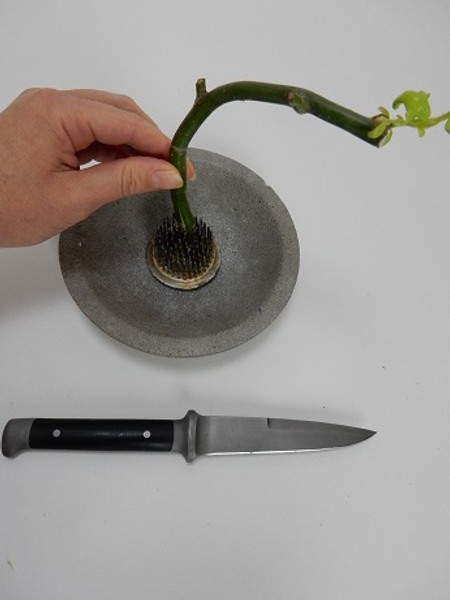 It is now fairly easy to angle and position the stem as you require
Splinting a stem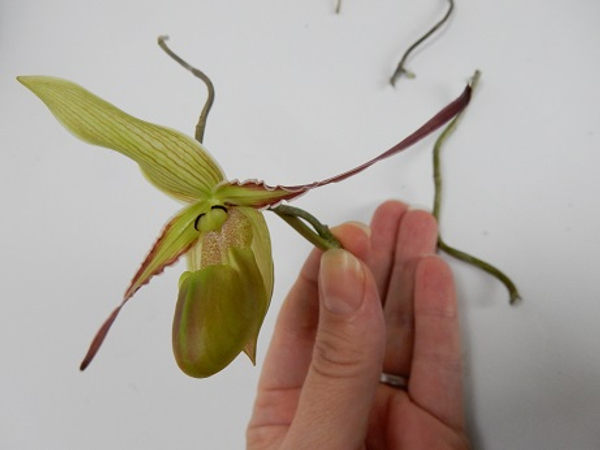 Some stems are either too soft or too thin to be spiked into the Kenzan needles. The needles might rip the stems or are just too thick. Create a splint by placing another stem next to the soft stem and latching it together with binding wire or twisting a more flexible stem around the fragile stem so that it naturally stays in place.
Bundling stems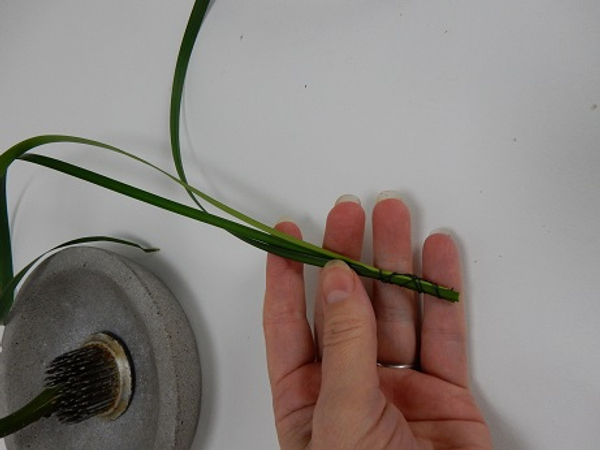 When using this stems such as Gypsophila, or grass or straw it is easier to position if you bundle a few stems together so that the Kenzan teeth can support the stems. Gather a few stems together and latch with binding wire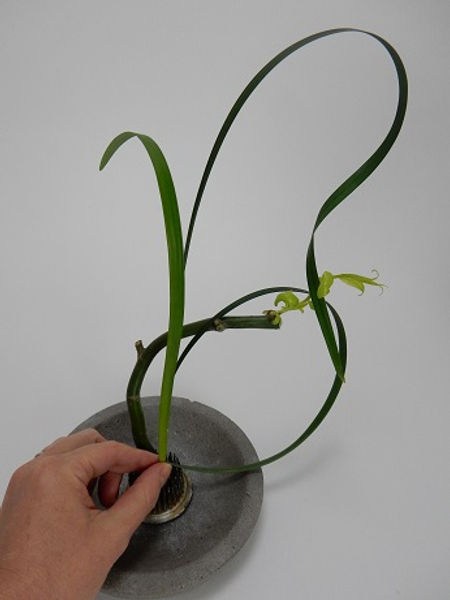 Position the bundle over the needles at the required angle
Design note: Although in more traditional Moribana designs, the plant material emerges from an exposed surface. You might want the option of covering the Kenzan.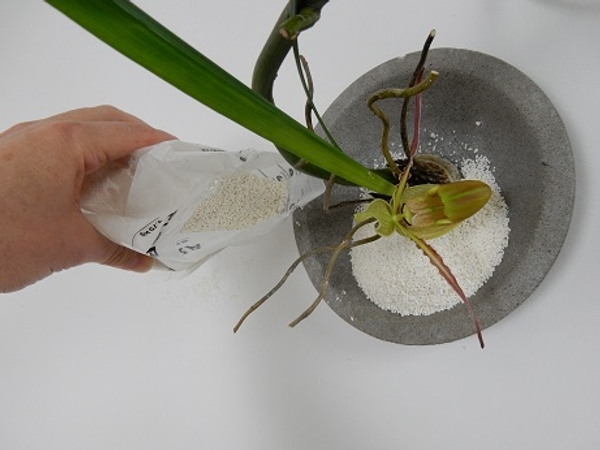 Cover the mechanics with sand, small glass chips or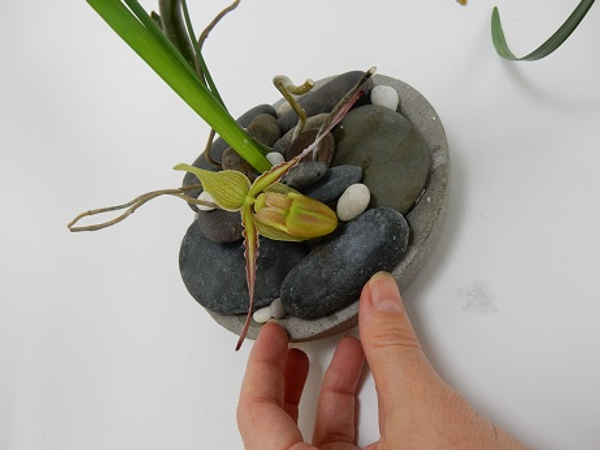 ... pebbles
Top up with water to keep the plant material hydrated.


Sign up for my weekly newsletter
Every week I add a new design with related tutorials. Be sure to subscribe to receive an email notification with design inspiration.