My Creative Workbook
Christine de Beer - effortless floral craftsman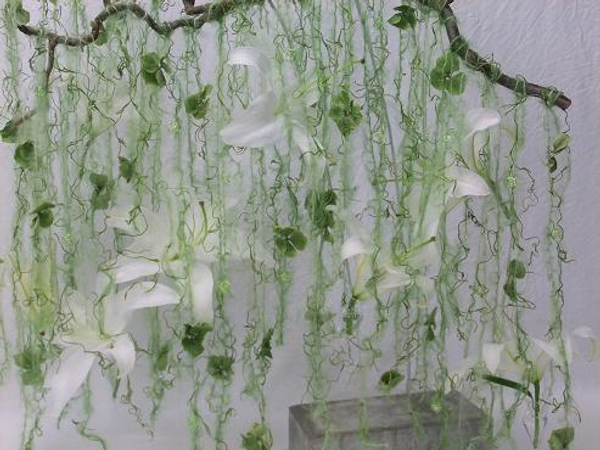 Tillandsia Usneoides
Detail of my Stringing in the Rain design with Spanish moss, wool, hydrangeas and lilies.
Common name
Spanish moss, Florida moss, long moss, or graybeard
Origin
Central and South America and the southeastern United States but it will grow wherever the climate is warm and humid such as South Africa, Hawaii and Australia
Colors
A mass of grey green with tiny greenish blue flowers and brown seedpods. The moss can also be dyed.
Vase life
Spanish moss can be arranged without a water source as it absorbs moisture from the air. It will even withstand long periods of absolutely no water when the plant becomes dormant.
Uses
Roll in a ball and use as a water retaining mechanic. It is also great to use as a natural stuffing to add bulk or cushion delicate objects. Can be used as mulch in planted designs or draped as insulation or a natural screen or even as fibres.
Conditioning
Wearing gloves dunk the moss under water and lightly wash it with a little bit of dishwashing soap to remove all bugs. Rinse well and spread out the moss to dry in full sun. Or seal the moss in an airtight container (or bag) for a week in a cool shaded area. This should also draw out any bugs hiding in the moss. Take care not to sweat or heat the moss. Rinse out and your moss is ready to work with. Do not microwave. Use dry or hydrate the moss for a few weeks before using in an arrangement
Sign up for my weekly newsletter
Every week I add a new design with related tutorials. Be sure to subscribe to receive an email notification with design inspiration.