My Creative Workbook
Christine de Beer - effortless floral craftsman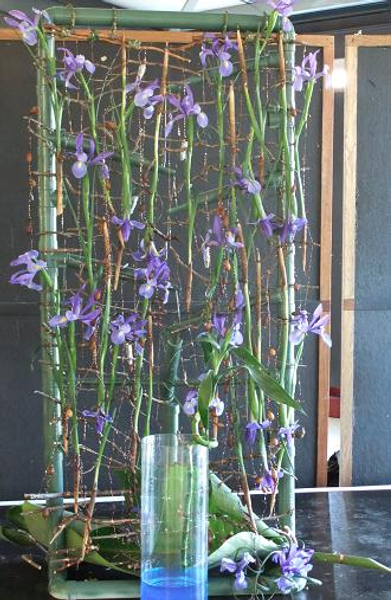 Iris
I made a Shishi Odoshi (tipping fountain) for my Desalination Floral Art Demonstration design. Blue Iris flowers hangs down (and up-side down) on my twig blind to represent the pure water.
Common name
Dutch Iris or widow iris are the best known varieties used as cut flowers
Varieties
New varieties improve on vase life and are increasingly popular as a cut flower.
Colors
Ink Blue with a bright yellow comb but also available in a pale blue, dark purple, yellow and white
Vase life
About twelve days. Often a smaller side flower develops and opens soon after the main flower fades. This side flower is always slightly paler in colour than the main flower.
Scent
None to slightly distinctive. The scent "Iris" is actually pressed from the plant roots
Uses
I love to weave with iris leaves. The flowers look great on its own in a vase. I also like to design them placed upside down.
Conditioning
Peel away the lower foliage. Give the stem a fresh cut and hydrate in cool water with dissolved flower food for a few hours.
Sign up for my weekly newsletter
Every week I add a new design with related tutorials. Be sure to subscribe to receive an email notification with design inspiration.