My Creative Workbook
Christine de Beer - effortless floral craftsman
Floral Designs From Around The World
A floral art demonstration presented at Canada Blooms, Toronto, Canada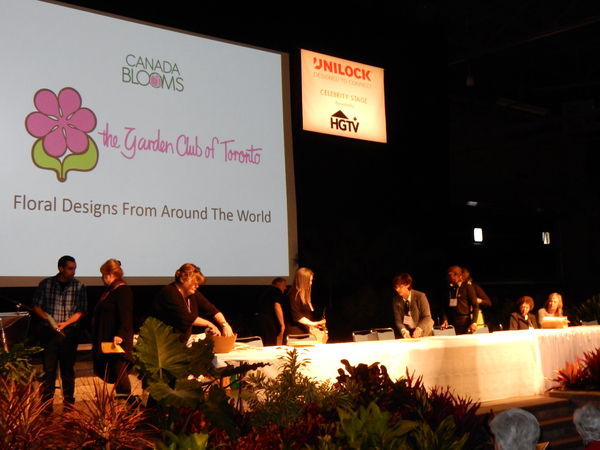 This is a closer look at my demonstration design at the recent Canada Blooms show. I was invited to share the stage with designers from Bermuda, United Kingdom, France, South Africa, Barbados, United States, Australia, Ireland and Canada by the Garden Clubs of Toronto. We competed in the International Invitational Class entitled Celebrate! and used this demonstration to share some of our home-grown inspiration.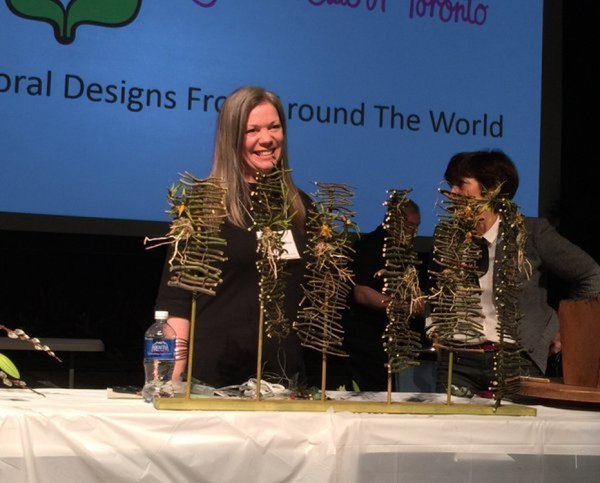 My design was inspired by one of my favourite Vancouver sights, The Treetops Adventure at the The Capilano Suspension Bridge Park and surrounding West Coast rain-forest.

picture credit: This picture is from Canada Blooms and Garden Clubs of Toronto via Twitter
Background and Slideshow: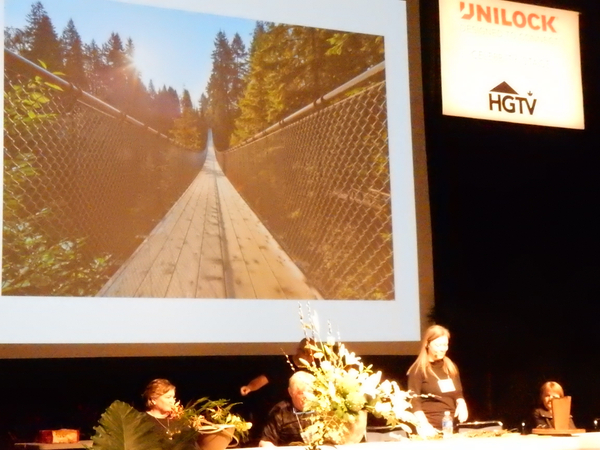 The Capilano Suspension Bridge is a narrow pedestrian bridge crossing the Capilano River in the District of North Vancouver, British Columbia, Canada. The current bridge is 140 metres long and 70 metres above the river.
The Treetops Adventure is a series of labyrinth-like foot bridges in the Capilano Suspension Bridge Park. Suspended as high as 33.5 meters above the forest floor in some places, attached to 250 year old Douglas-firs (estimated to weigh about 30 ton each) that allows you to stroll high up, from tree to tree, taking in the cedar-scented air and offering an unique view of the rain-forest, towering evergreens, trout ponds, Capilano River, granite cliff face, canyons and critters (be sure to look out for a fascinating Banana slug… yes… The Banana Slug)

The bridges are built to accommodate the continued growth of the trees. The viewing platforms are attached by an innovative and award winning tree collar system that is adjustable, movable and has no nails or bolts penetrating the Douglas-firs. The collars are loosened and moved up as the trees grow in circumference.

Demonstration: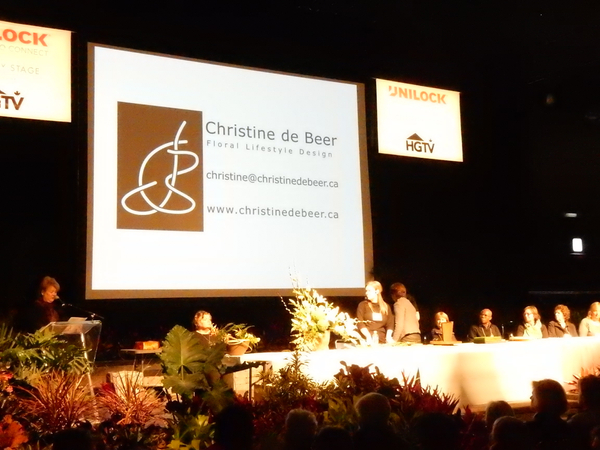 I am inspired by this kind of attention to detail.

I am inspired by the "place" where good old fashioned craftsmanship meets contemporary innovation.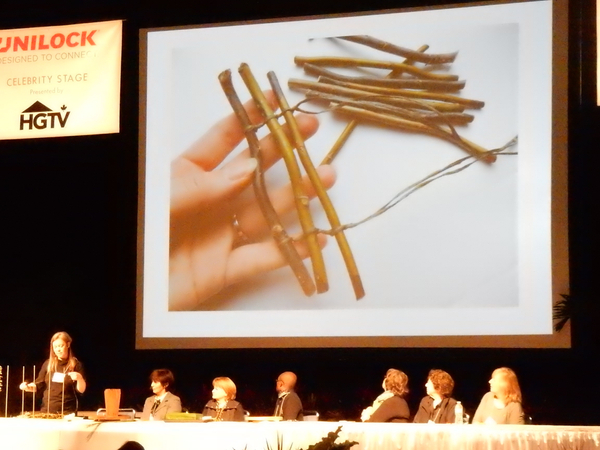 My design was a contemporary armature made from construction lumber and dowel spikes, stained green to look weathered (see Tutorial below)
And I suspended my floral details: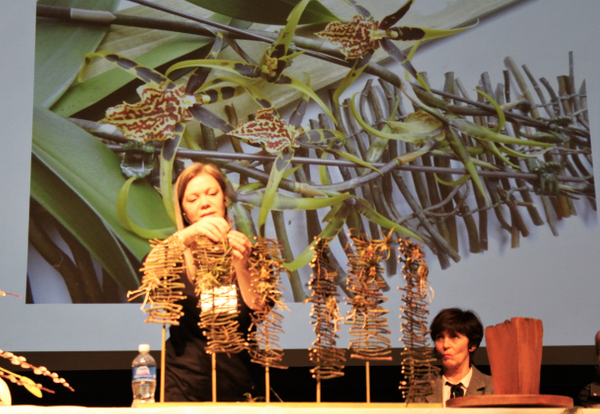 … the beautiful rain-forest Spider Orchids...

picture credit: This picture is from the Canada Blooms: It's A Party 2016 DVD, Garden Clubs of Toronto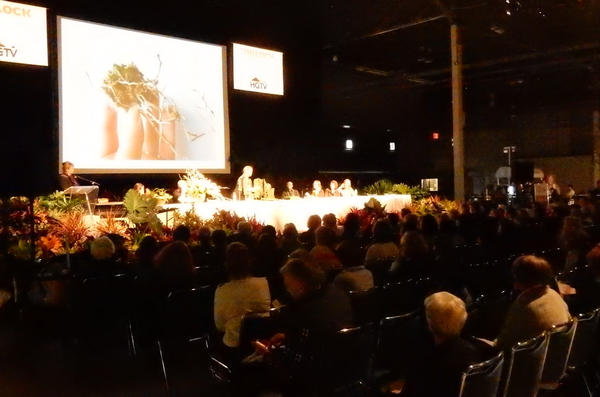 … and tiny "forest floor disks" … (see Tutorial below)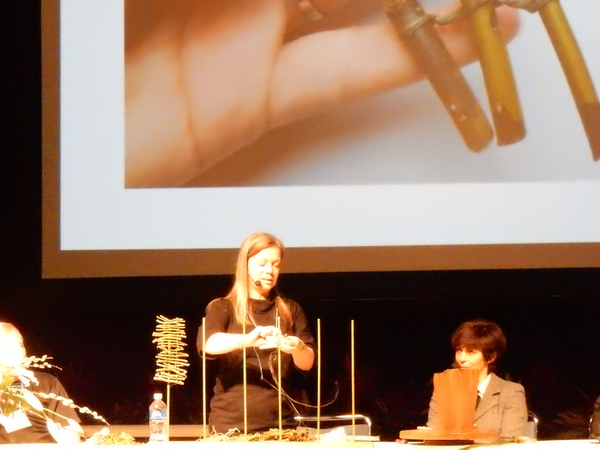 from adjustable, movable twig "bridges" crafted by using a traditional techniques to make twig blinds from willow and bind wire (see Tutorial below)
I also demonstrated how I make a tiny water source to keep my plant material hydrated using a drinking straw and sealing it with hot glue. (see Tutorial below)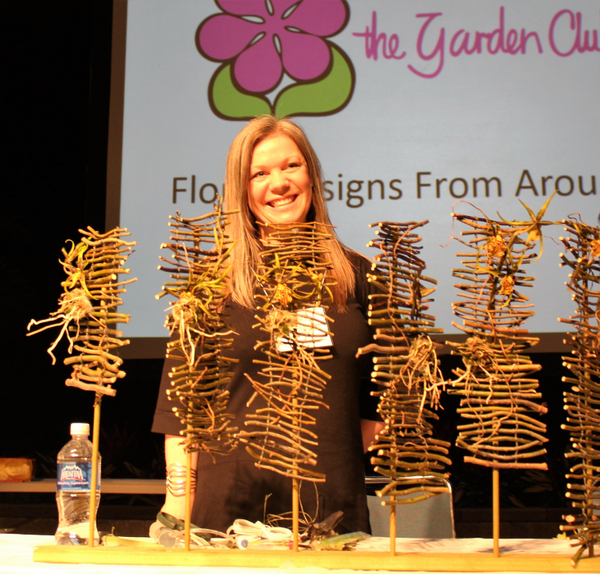 Thank you to Canada Blooms, The Garden Club of Toronto and The Toronto Flower Show and for inviting me to demonstrate.

picture credit: This picture is from the Canada Blooms: It's A Party 2016 DVD, Garden Clubs of Toronto
For detailed pictures of the design see the link below
Sign up for my weekly newsletter
Every week I add a new design with related tutorials. Be sure to subscribe to receive an email notification with design inspiration.