My Creative Workbook
Christine de Beer - effortless floral craftsman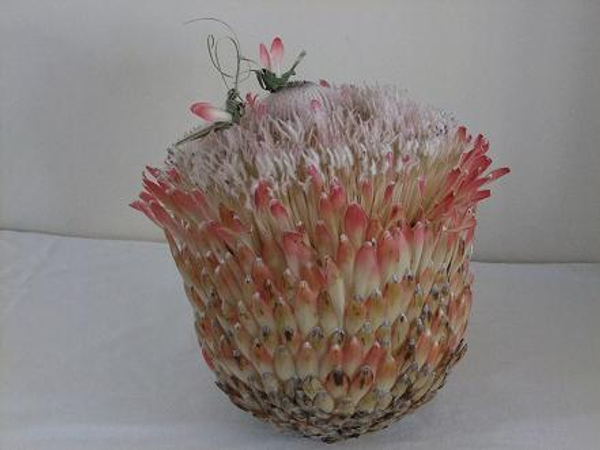 Protea
This Protea Composite flower with Palm Butterflies is a Bridal Orb Bouquet, to be carried in the hand like a ball. This design was part of my Fusion Flowers Magazine Designer of the year competition portfolio
Common name
Protea (but each variety also has a common name)
Origin
National flower of South Africa. It is also found in the rest of Africa and Australia and cultivated in Israel and America.
Varieties
The family Proteaceae has more than sixty genera and 1400 species
Colors
Dusty pinky red with white inside, green, white, cream, pink, and red
Vase life
up to a month if you arrange the woody stems in deep clean water.
Scent
Slight honey scented. There are often bee hives closed to fynbos plants and fynbos honey is very distinctive.
Uses
Large strong flower heads that dries very well for permanent arrangements. Because the flowers dry so well I like to deconstruct proteas and reconstruct them in different ways.
Conditioning
Regularly clean the vase and change the water. Allow air to circulate around the Proteas.
Sign up for my weekly newsletter
Every week I add a new design with related tutorials. Be sure to subscribe to receive an email notification with design inspiration.