My Creative Workbook
Christine de Beer - effortless floral craftsman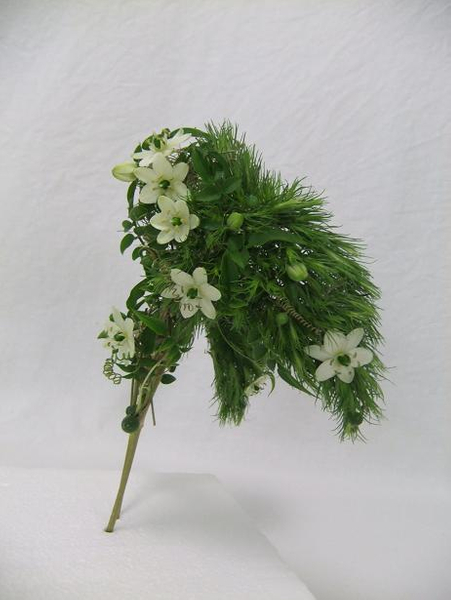 Ornithogalum
Detail of my Christmas design: Floral wings with Chincherinchees, passion fruit tendrils, jasmine foliage and string of pearls succulents
Common name
The Afrikaans name is tjienkerientjee (named after the sound the stems make when rubbing together in the wind) Chincherinchee, wonder-flower (because they last so long), star-of-Bethlehem (biblical reference to the Christmas star)
Origin
South Africa and southern Europe
Varieties
Chincherinchee is part of the Hyacinthaceae family and the most common flowers grown for the cutflower industry are Ornithogalum thyrsoides, Ornithogalum umbellatum (has larger flowers with a green stripe) and Ornithogalum arabicum (with a green-black ovary in the center) and . Ornithogalum dubium (cup shaped orange flowers)
Colors
White or creamy-white, sometimes tinted green or bronze at the base with a brown or green or green-black ovary in the centre that fades with age
Vase life
Two to four weeks as a stem but the flowers last a bit shorter if cut as individual flowers
Scent
Strong, sweet floral fragrance
Uses
The white Chincherinchee flowers and stems are really trendy at the moment and is used in intricate wedding bouquets, table centerpieces and flower arrangements. The Flower stalks easily take up colourant when placed in food dyes.
Conditioning
Remove any foliage and place in cold water with flower food. The buds will continue to open. When designing with Chincherinchees keep in mind that the stem will bend up if placed in a horizontal position (geotropism). Parts of the plants are poisonous so always make sure the plants are not placed where pets can eat them. Wash or protect your hands to avoid skin irritation or allergic reaction when handled. Water the plants once every 14 days and let the soil dry out before watering again. Place the plants in a warm sunny position. The better the soil conditions the larger the flowers.
Sign up for my weekly newsletter
Every week I add a new design with related tutorials. Be sure to subscribe to receive an email notification with design inspiration.