My Creative Workbook
Christine de Beer - effortless floral craftsman
Copper wire Spiral pot scrubber becomes a Tiara
Used the Unusual to Use as Usual, again
Up-cycling design 1

In January I touched on the subject of up-cycling in Floral Art- in fact you will notice that I often up-cycle or even down-cycle or just plain recycle items in my art. Let me explain the difference between down-cycling and up-cycling.

Down-cycling is what we understood traditionally as "recycling". Take the life-cycle of a beautiful sheet of paper. Recycled it would become a slightly off colour paper towel then compressed in a pulp mould to become a mushy cup holder and then a really ugly egg box or electronics packaging before its boiled pulp is so useless it can only be (burnable) waste.

Up-cycling is the process of converting waste materials into products that are more valuable, better quality or of a higher environmental importance. Beautiful paper, when up-cycled becomes wallpaper. Burned out candle stumps become floral vases. An old wool jersey becomes felt pebbles. A cardboard box becomes the base of my Floral Hourglass sculpture. Re-purposed wire and fishing line found between the rocks on the beach becomes my In the bag Design.

Successful up-cycling in design always appear to be seamless and never forced.

Consider adding details only if it is the natural solution to a design problem. If you force "recycling" into a design it attracts too much attention and distract from the beauty of nature- which is still the point of Floral Art.

See below for a few more up-cycling designs links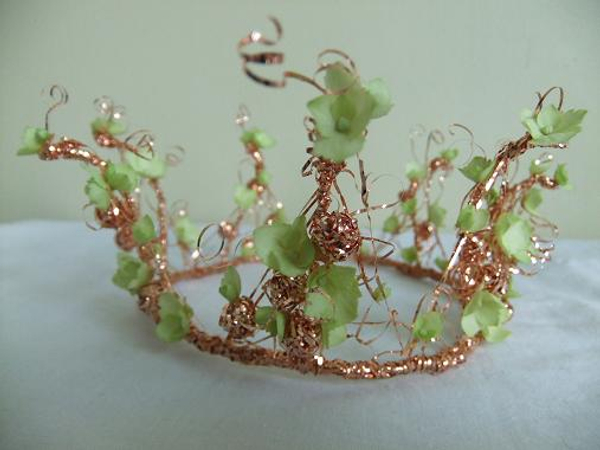 "Her Fairy Godmother magically appeared and vowed to assist Cinderella in attending the ball. She turned a pumpkin into a coach, mice into horses, a rat into a coachman, and lizards into footman. She then turned Cinderella's rags into a beautiful gown, complete with a delicate pair of glass slippers."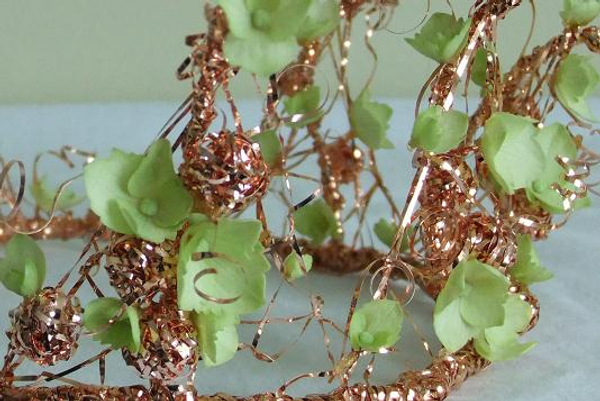 And in my version of the fairy tale: the pot scrubber became her Tiara.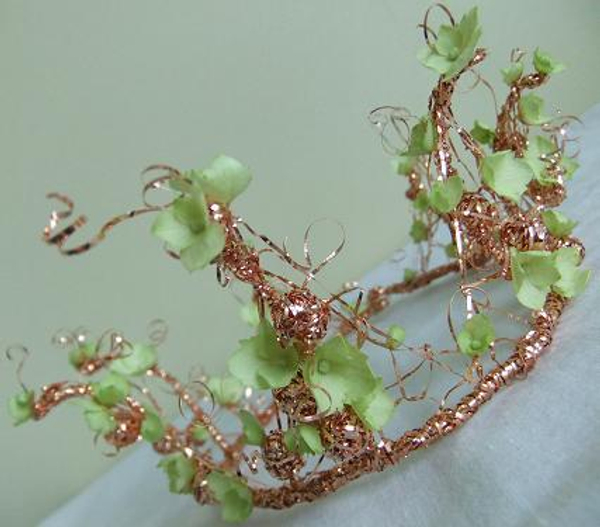 A real Cinderella design: one moment scrubbing pots and the next getting ready for the ball.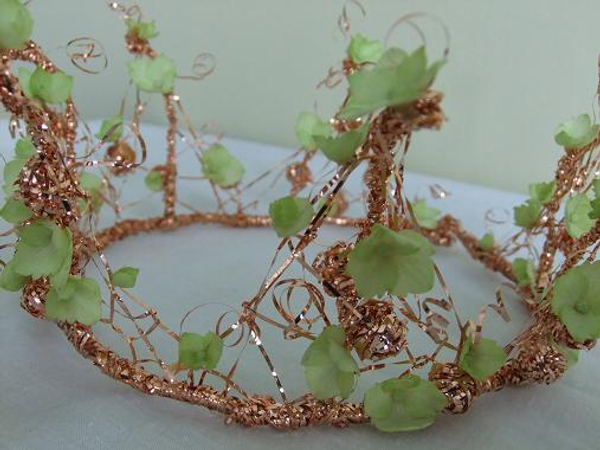 Up-cycle a copper pot scrubber into a huge roll of copper ribbon wire to make a luxurious tiara fit for a princess for less than $2.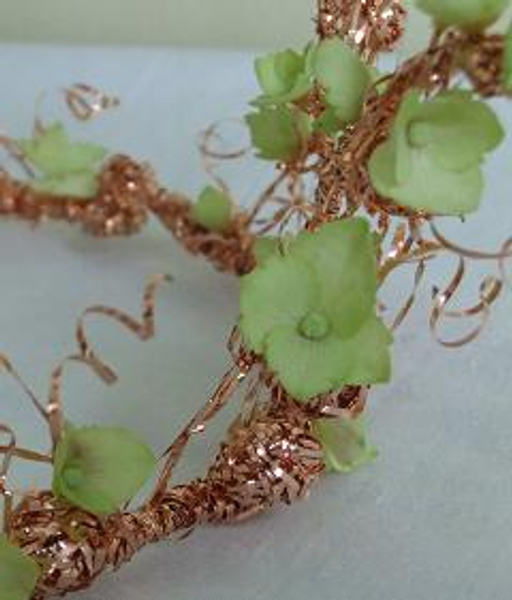 And dress up the tiara with a few flowers
Sign up for my weekly newsletter
Every week I add a new design with related tutorials. Be sure to subscribe to receive an email notification with design inspiration.