My Creative Workbook
Christine de Beer - effortless floral craftsman
Drinking straws become flower test tubes
Used the Unusual to Use as Usual, again
Up-cycling design 2

In January I touched on the subject of up-cycling in Floral Art- in fact you will notice that I often up-cycle or even down-cycle or just plain recycle items in my art. Let me explain the difference between down-cycling and up-cycling.

Down-cycling is what we understood traditionally as "recycling". Take the life-cycle of a beautiful sheet of paper. Recycled it would become a slightly off colour paper towel then compressed in a pulp mould to become a mushy cup holder and then a really ugly egg box or electronics packaging before its boiled pulp is so useless it can only be (burnable) waste.

Up-cycling is the process of converting waste materials into products that are more valuable, better quality or of a higher environmental importance. Beautiful paper, when up-cycled becomes wallpaper. Burned out candle stumps become floral vases. An old wool jersey becomes felt pebbles. A cardboard box becomes the base of my Floral Hourglass sculpture. Re-purposed wire and fishing line found between the rocks on the beach becomes my In the bag Design.

Successful up-cycling in design always appear to be seamless and never forced.

Consider adding details only if it is the natural solution to a design problem. If you force "recycling" into a design it attracts too much attention and distract from the beauty of nature- which is still the point of Floral Art.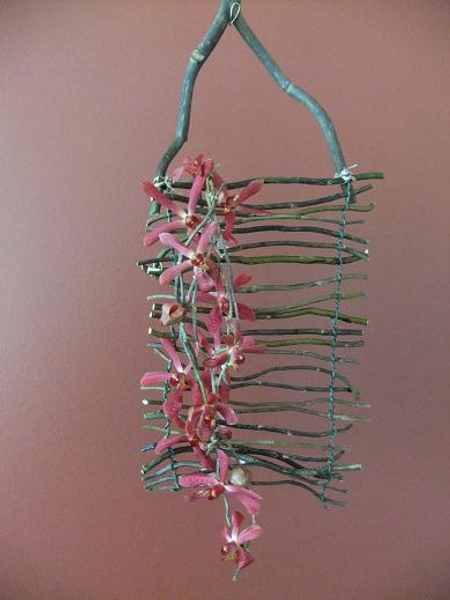 This design is all about the orchids
I used Aranthera: James Storie orchids.

They look rather similar to the Mokara and Aranda orchids. As I understand it, Arandas and Aranthera orchids are similar in shape to Mokara orchids, but have longer and thinner petals. The Arandas are also slightly bigger than the Arantheras.

For an example of both the Aranthera and Aranda orchids in one design see my WAFA 10th International Flower Show in Boston USA: This Glorious Earth made for the WAFA Flower show in Boston.This design was the starting point of the idea for the Zipper design. You will clearly see the similarities.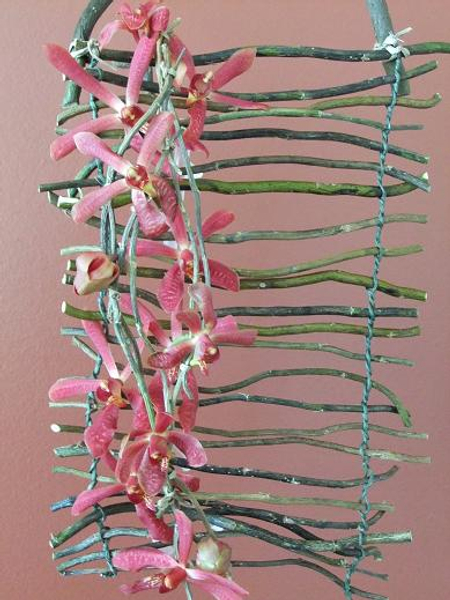 Willow twig blind with tiny Aranthera: James Storie orchids
I wanted to place these orchids on a twig blind. I could either hang the entire stem to naturally trail up (or down) the blind but this is quite a small design and the flowers would be spaced very far apart. To place the tiny florets in exactly the right spot I needed tiny test tubes.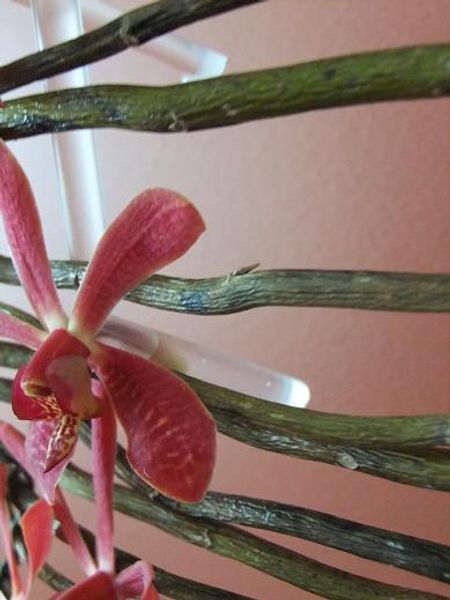 Orchids are slow drinkers and ideal to design in tiny test tubes or even drinking straws test tubes
See below for a drinking straw test tubes Tutorial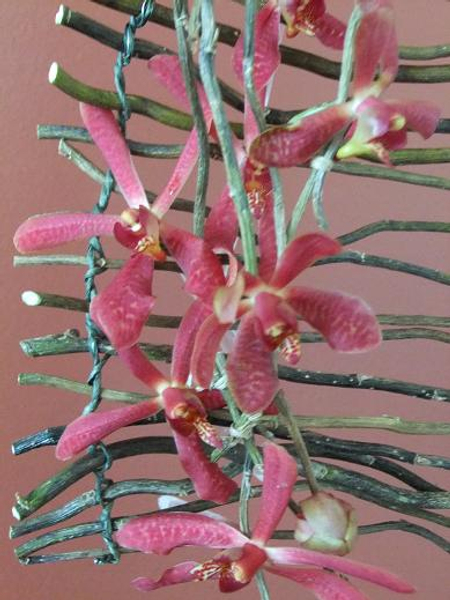 Next, I wired a fragile "cage" of willow twigs to emphasize the vertical placement of the orchids on the horizontal lines of the blind.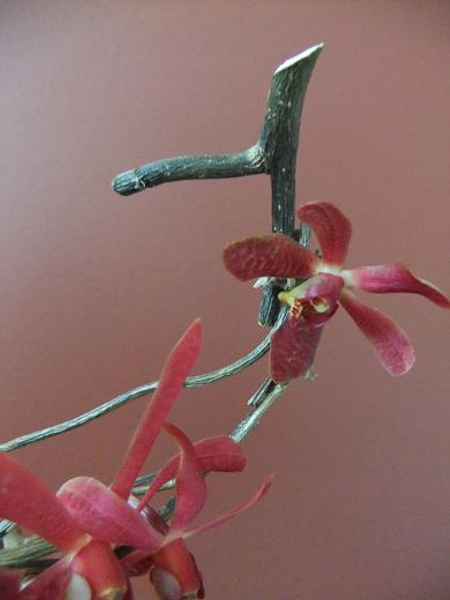 Willow hook to hang the design from.
Sign up for my weekly newsletter
Every week I add a new design with related tutorials. Be sure to subscribe to receive an email notification with design inspiration.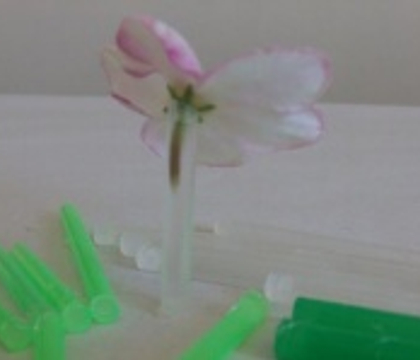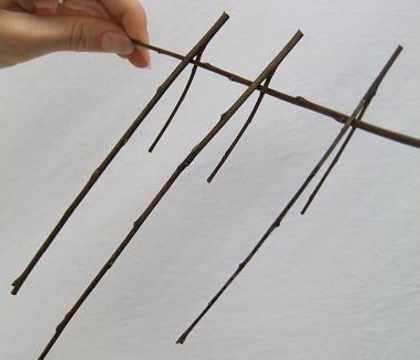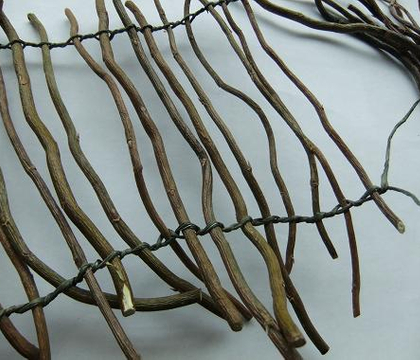 26 April 2011
Weave a willow twig blind
Weave twigs in parallel to create a twig blind with strong but natural horizontal lines.