My Creative Workbook
Christine de Beer - effortless floral craftsman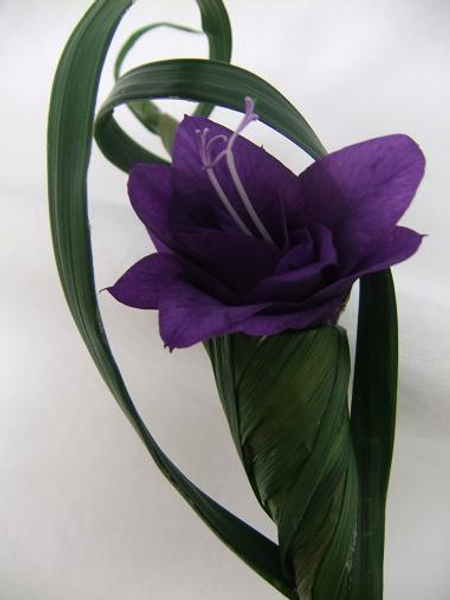 Gladiolus
Detail of my Blue Harlequin design. An ink blue Gladiolus composite flower nestles snugly between two lily grass cones that curve nimbly into a crescent shape.
Common name
Gladiolus, Sword lily, Corn Lilies, gladioluses, glads, plural: gladioli
Origin
South Africa, Tropical Africa, Asia and Mediterranean Europe
Varieties
There are more than 260 species of Gladiolus with multiple hybrids that are available to the cut flower industry.
Colors
Green, white, cream, yellow, red, pink, (or combinations thereof) and most amazingly ink blue
Vase life
One to two weeks
Uses
Excellent line flower or cut the spike for smaller individual flowers. The flower breaks up neatly and can be rolled together to create a spectacular composite flower
Conditioning
Look for long stems that are cut cleanly with healthy green leaves. The bottom most flowers should just begin to open and the next few buds should already show their colour. Give the stem a cut and peel away the bottom most leaves. Place the flowers in warm water (with flower food). The top most closed buds will always point to the sky (negative geotropism) this can ruin the line of your design, especially when arranged vertically. Condition the flowers upright if you want the sword shape and snip away the top most buds if you want to keep the closed buds from curving up or condition the flowers leaning to add them at an angle to your design
Sign up for my weekly newsletter
Every week I add a new design with related tutorials. Be sure to subscribe to receive an email notification with design inspiration.