My Creative Workbook
Christine de Beer - effortless floral craftsman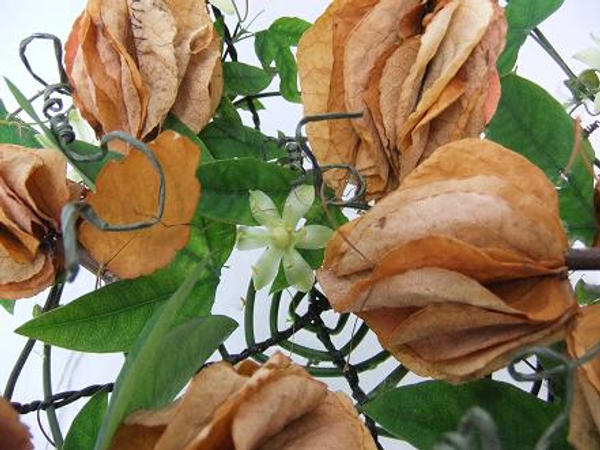 Eucomis
My Growing Gratitude design with a tray woven from green passion fruit vines and single eucomis flowers and "pumpkins" made from sticks and autumn leaves
Common name
Pineapple flowers or pineapple lilies, the Afrikaans names for the flowers are Wildepynappel or Krulkoppie and the Zulu name is Umathunga
Origin
South Africa, Botswana, Lesotho, Swaziland, Zimbabwe and Malawi. Also North America and Euro Asia
Varieties
Eleven species are available
Colors
White, yellowish-green, coral to deep pink
Vase life
The bulb plants will bloom for a few weeks or last up to 14 days in a vase. The seeds and fruits that form on the stem will also last up to 30 days in a vase.
Uses
Great showy flower spikes and has become fashionable in contemporary designs to insert a single flower into a design
Conditioning
Condition in deep cool water with added bulb flower food.
Sign up for my weekly newsletter
Every week I add a new design with related tutorials. Be sure to subscribe to receive an email notification with design inspiration.