My Creative Workbook
Christine de Beer - effortless floral craftsman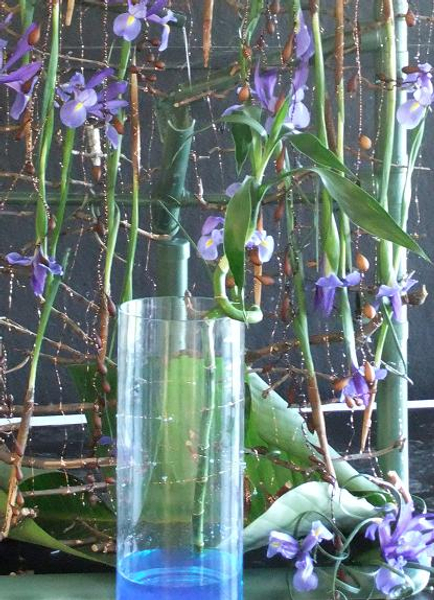 Dracaena sanderiana
I made a Shishi Odoshi tipping fountain out of PVC pipe (sprayed green) for my Desalination demonstration design. Lucky Bamboo in front, in the vase was used to catch the water and illustrate fresh water
Common name
Lucky Bamboo, Ribbon Dracaena, Belgian Evergreen, Ribbon Plant
Origin
It is native to Cameroon in tropical West Africa. It is marketed as a decorative Chinese plant but is unrelated to Bamboo and not native to Asia.
Varieties
Numerous cultivars are sold as houseplants. Small straight stems or twisted long stems propagated from cuttings, usually with its roots in water. Dracaena sandriana can flower Autumn, Winter or early Spring.
Colors
Most plants we purchase are a healthy dark green but a variegated white and green is also available.
Vase life
Can last for a few years if you change the water every two weeks.
Uses
Often used in Feng Shui designs. Look great on its own or placed with round pebbles. Twisted shapes can be produced by rotating the plant to face the sun- this will take a long time
Conditioning
Place in a bright position with indirect light- direct sunlight can cause the leaves to turn brown. A lucky bamboo can also be used completely submerged in water for a few months and the life can be extended by allowing at least a few leaves to grow above the water line.
Sign up for my weekly newsletter
Every week I add a new design with related tutorials. Be sure to subscribe to receive an email notification with design inspiration.