My Creative Workbook
Christine de Beer - effortless floral craftsman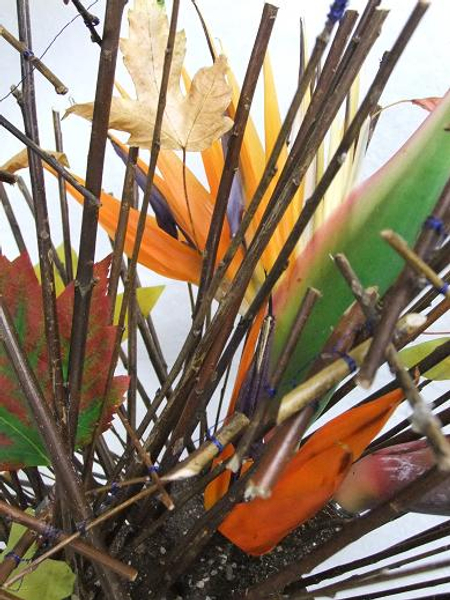 Strelitzia
Detail from my Prickly design
Common name
Crane Flower, Bird of Paradise, Birds, Strelitzia
Varieties
There are a few varieties available including the African desert banana, White Giant bird of paradise, Mountain Strelitzia, hybrid Crane lily and the spectacular purple, blue and creamy white Strelitzia nicolai
Colors
Mostly yellow to orange with blue but you also find white and blue flowers
Vase life
One to two weeks
Uses
Great for large and dramatic designs. It is such a statement on it's own that I do not like to over crowd the spectacular flowers.
Conditioning
Purchase the flowers in tight spathe. (see my Tutorial below for more information on opening the flowers) Give the flower a cut at a sharp angle to expose as much stem surface as possible to the water and hydrate in a mixture of warm water and flower food. Do not hammer or crush the stems. Do not expose the flowers to cold. If you are using floral foam as a mechanic make sure you place the foam in a sturdy wire cage (made from mesh). The stems are strong and heavy and need the extra support. You can also use bamboo, dowel sticks or reeds to anchor the heavy stems in a design. Some designers use leaf-shine or oil to enhance the colour of the spathe
Sign up for my weekly newsletter
Every week I add a new design with related tutorials. Be sure to subscribe to receive an email notification with design inspiration.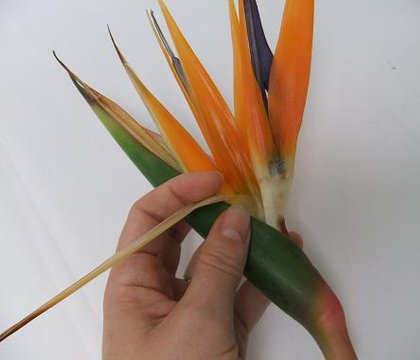 2 October 2013
Helping Strelitzia flowers to fan open
If you want completely unblemished petals, purchase the Bird of Paradise flowers when the petals are still hidden in the spathe, and carefully coax it open. The flowers will not...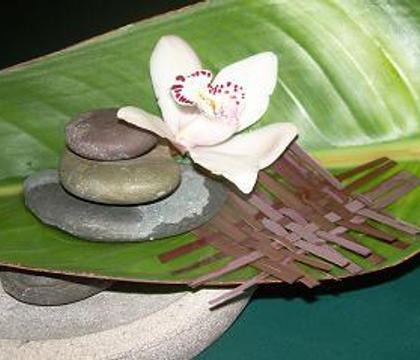 7 June 2011
Floating Boat Orchid
The name Cymbidium or boat Orchid is derived from the Greek word Kumbos meaning "hole or cavity", referring to the hollowness in the base of the lip of the flowers.