My Creative Workbook
Christine de Beer - effortless floral craftsman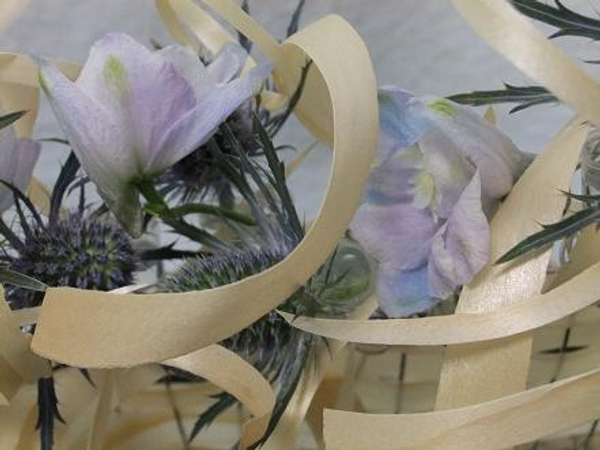 Delphinium
Detail of my Just Right! design done for the Floral Art demonstration at the BC Floral Art Society club meeting
Common name
Delphinium or Larkspur (a smaller variety)
Origin
China and Eastern Europe
Varieties
Floral designers mainly use three varieties: Blue Belladonna Delphiniums, the smaller larkspur that grows as an annual from seed and Elatum varieties, which are hybrids
Colors
White, blue and purple, pink (and orange, though it is hard to find on a reliable basis) with various shades in between. Some with white and some with dark centers.
Vase life
Surprisingly long lasting: almost two weeks.
Uses
Pick the individual blossoms and use in designs for body flowers or add the long stems to add height to a design.
Conditioning
Some of the blossoms will drop naturally from the stems but you can minimize this by rinsing the stems and add fresh water with flower food. This will also help keep the petal colours from fading. Turn the stem upside down to make sure the entire hollow stem is filled with water and to reduce the chances of an airlock forming. Fill the hollow stem with room temperature water. Gently tap the stem to release any bubbles. Either plug the stem with cotton wool or hold your thumb over the water filled hollow until it is in the water.
Sign up for my weekly newsletter
Every week I add a new design with related tutorials. Be sure to subscribe to receive an email notification with design inspiration.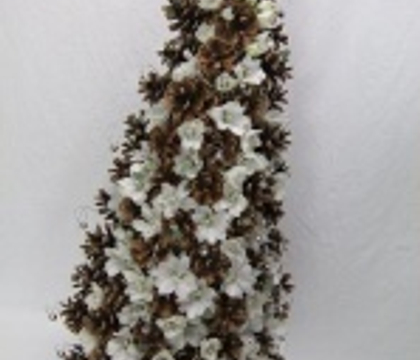 24 July 2013
Getting into the competitive spirit of things
Retail florists and wholesalers are already designing, ordering and preparing their product range for Christmas. This is my article that I wrote for the Christmas Design Issue of...