My Creative Workbook
Christine de Beer - effortless floral craftsman
WAFA 10th International Flower Show in Boston USA: This Glorious Earth
The management of WAFA (World Association of Flower Arrangers) moves from country to country every three years. During its tenure, the host country organizes an International Seminar, stages a World Flower Show, convenes a General Assembly, and plans various other educational events.
Previous WAFA host countries were Belgium, Canada, France, Japan, New Zealand, Pakistan, South Africa, and the United Kingdom.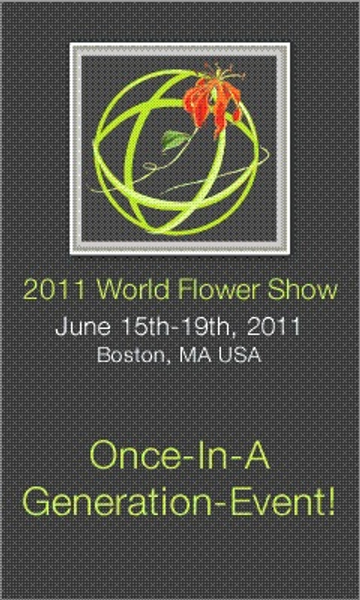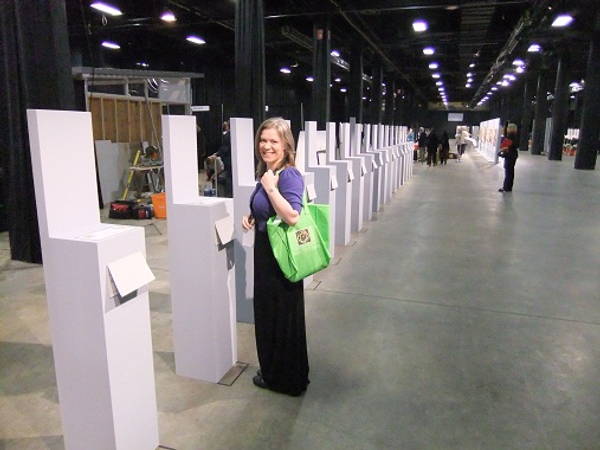 Delegates from the 32 countries that make up the World Association of Flower Arrangers (WAFA) got together at the Seaport World Trade Center to stage over 630 floral art designs and promote conservation in cooperation with the show
The 6 core rules for Flower Shows hosted by the World Association of Flower Arrangers:
An exhibit is made of plant material, with or without accessories, within the space specified in the Show Schedule.
Plant material must predominate over all the other components of the exhibit.
The use of artificial plant material is forbidden unless stated in the show regulations.
Fresh plant material must be in water or water-retaining material unless such material remains turgid throughout the event.
Painted and/or artificially coloured plant material may be used unless otherwise stated in the regulations.
Pre-prepared work must not dominate in the exhibit.

Within these 6 rules each governing body expands and refines the show specific regulations to suit their design philosophy.
Class 11: Zipper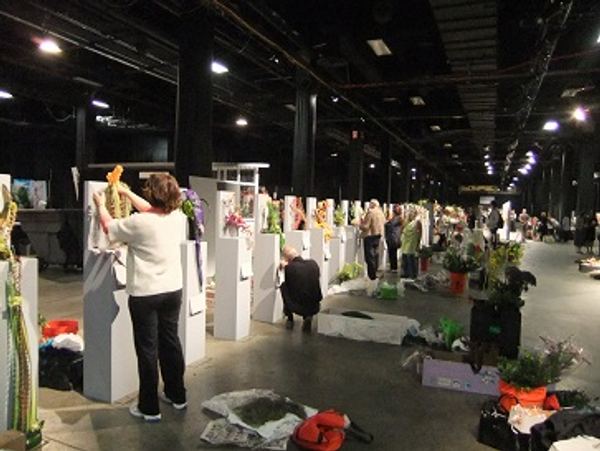 Staging was between 6:00 and 12:00, on a backed Pedestal
| | |
| --- | --- |
| Height | 111.7cm |
| Width | 30.5cm |
| Depth | 25.4cm |
| Height of Back | 50.8cm |
| Colour | Grey |
| Depth (Space allowed) | 35.5cm |
Viewed and Judged from the front
It is not often that we get to work in a smaller scale. Most of our Competition designs are rather big. It was an exciting challenge for me to make full use of this by using plant material that would not always be possible (or realistic!) in larger designs. I made 100 tiny test tubes covered in rose bark and used just over 300 short rose twigs for the Zipper -that is 14 meters of dried rose stems! I also used the roots of 4 miniature rose plants and 5 stems of clustered orchids to make the small design.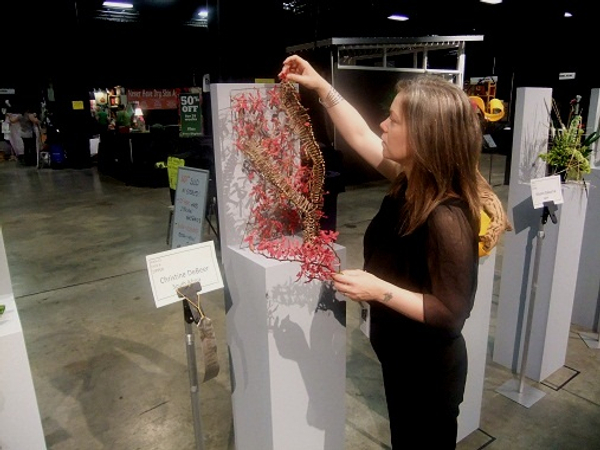 I wove my Zipper from short, dried rose twigs with tiny thorns on them. The delicate "fabric" at the back of the design is woven rose bush roots.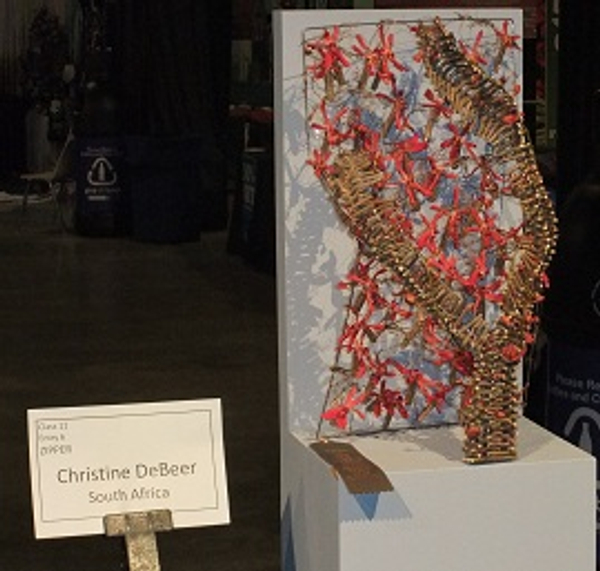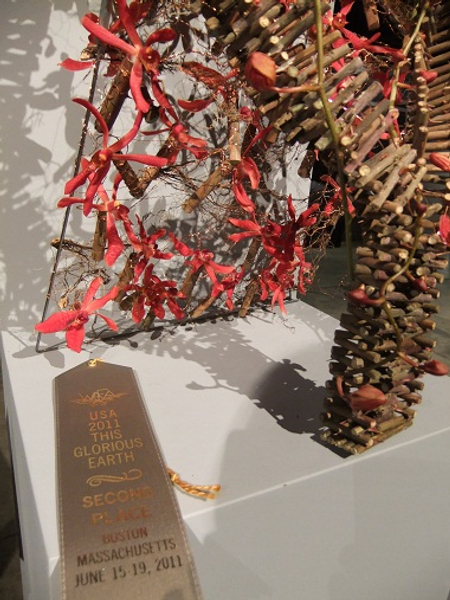 Detail of my rose twig Zipper. It took me two hours just to weave the twigs into place.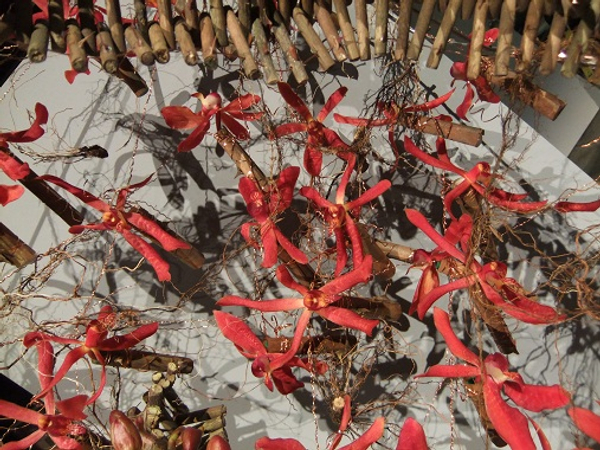 Detail of the copper wire and delicate miniature rose plant roots that make up the "fabric"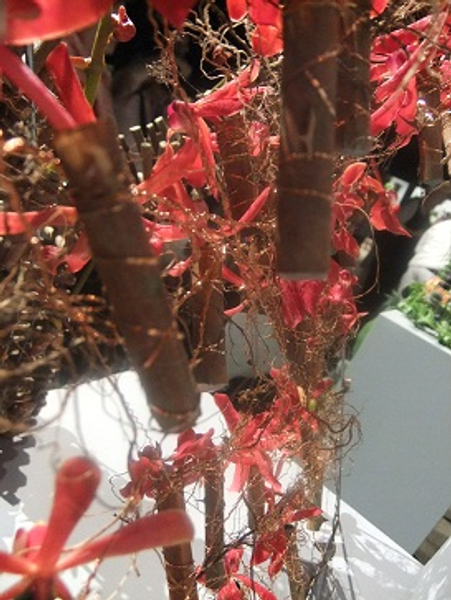 Looking through the root "fabric".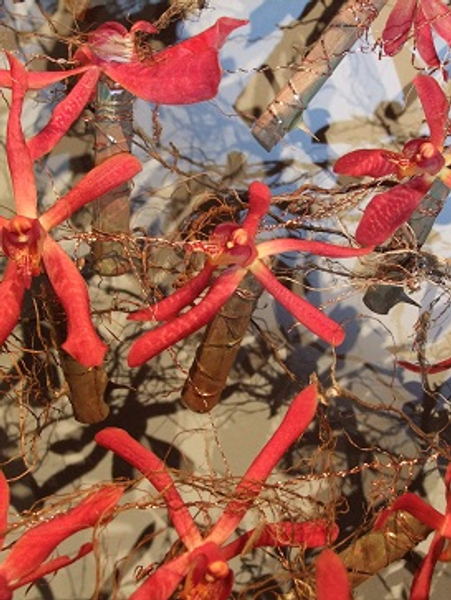 I used both red Aranthera and Aranda orchids in my design. Each orchid floret is in a tiny test tube (filled with water) that I covered with rose stem bark to mimic the rose stem twigs used to make the Zipper. If you look carefully you will be able to see all those thorns!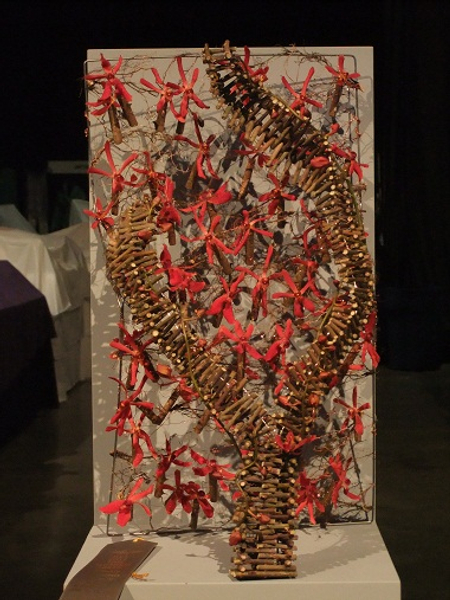 Zipper design from the front
With over 630 flower designs- in 30 classes, 12 lectures, numerous design demonstrations (including a presentation by European Grand Masters Gregor Lersch, Germany; Alison Bradley, Scotland; Brigitte Auzely, France; Carles Jubany Fontanillas, Spain; Niels van Hemert, Holland) and dozens of national and international exhibitions, the 2011 International Flower Show was one of the largest floral conventions in the US and featured some of the most influential designers of today.

Floral Art Shows and Competitions are fantastic platforms on which to showcase (and be inspired by) what is on the forefront in design today. It is to flower arranging what runway shows are to fashion- an undiluted taste of things to come.It is unbelievably inspirational to be part of a large crowd of talented designers working hard to accomplish absolute beauty. And of course, to be able to represent your country in an International Show is the greatest privilege.

Congratulations to everyone involved. What a wonderful experience! For more pictures of our work visit www.wafausa.com or follow the link in my side bar.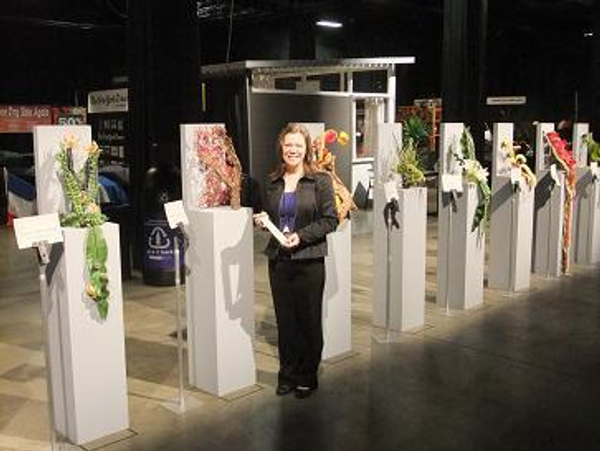 I won a Silver Award and was placed Second in my class.
I was also placed runner up to The Most Creative Design on show Award.
Sign up for my weekly newsletter
Every week I add a new design with related tutorials. Be sure to subscribe to receive an email notification with design inspiration.